Table of Contents
Are you embarking on the iconic Manaslu Circuit Trek? And curious about what the shower and toilet facilities will be like in this remote wonderland?
Brace yourself for an off-the-beaten-path adventure in Nepal, where nature sets the rules.
Picture this: breathtaking landscapes will surround you as you traverse the Manaslu Circuit. However, with great beauty comes a bit of rustic charm!
Don't expect luxurious spa-like facilities, but fear not! There are teahouses sprinkled along the Manaslu trail, each offering its own unique amenities.
Now let's talk about toilet facilities along the Manaslu Circuit route!
You will find a basic squat toilet in these teahouses. It might not be a five-star bathroom, but it gets the job done. Pack some toilet paper and sanitizer for your comfort, and you will be ready (literally)!
As for shower facilities, some teahouses may bless you with a warm one, while others might offer a chilly refreshment. Remember, you are in a remote region, so you have to roll with the flow.
Our experienced team has explored the Manaslu route multiple times, including the Tsum Valley Trek. Today, we are spilling the beans on the essential stuff: toilets, showers, and laundry facilities along the Manaslu Circuit route.
After reading this detailed post, you will be a confident trailblazer on both the Tsum Valley and Manaslu adventures. Get ready to embrace the wilderness with all the inside information you need.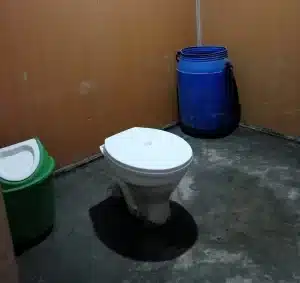 Whether it's a commode or squat toilet, the toilet rooms have a dustbin, and a water bucket and have limited space. Some may have mirrors but most do not have them. Regarding the shower, some locations along the route have an outside shower while a few restrooms have showers in the same toilet room.
Toilet facilities along the Manaslu Circuit Route
The Manaslu Circuit is a teahouse trek, meaning guest houses along the route have toilet facilities. However, these facilities are not as luxurious as those at home.
Some tea houses have communal toilets. So, during busy times like early mornings or evenings, you may have to wait for your turn.
Types of toilets (Squat vs. Western-style)
On the Manaslu trek, you may encounter two types of toilets, i.e., squat and western style. At lower elevations, hotels usually have western-style toilets, but above 2,500 meters, squat toilets are common.
Using squat toilets may be a fresh experience, especially for foreign trekkers. Instead of sitting in a seat, you need to squat over the hole. Most squat toilets require manual flushing. You will find a water bucket nearby to clean yourself. If you don't want to use water, make sure to bring toilet paper.
Additionally, using squat toilets correctly can be considered more sanitary. Here are some benefits of squat toilets:
Squat toilets eliminate direct contact with the toilet seat, potentially reducing the transmission of germs and bacteria.
Squatting is considered to promote a more natural and healthier posture during bowel movements.
Using squat toilets leads to quicker and more efficient bathroom visits.
Here are some useful tips for using squat toilets and maintaining hygiene during the Manaslu Circuit trek:
Clean the toilet surface by pouring in some water before use.
Empty your pockets to avoid losing items in the toilet hole.
Face the correct way, towards the squat toilet's hood.
Consider wearing shorts to prevent your pants from getting soaked.
Squat while holding or hugging your knee for support.
Many toilets in the Manaslu region lack toilet paper, so bring your own or use wet wipes.
Dispose of toilet paper properly after use, using the provided water bucket to flush waste.
Carry hand sanitizer or a small handwash sachet, as there might not be handwashing facilities available after using the toilet.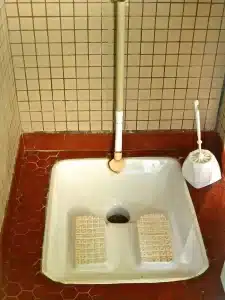 Are there any toilet facilities on the Manaslu Circuit trail?
Toilets are scarce on the Manaslu Circuit trail, especially in the forest and secluded areas. However, along the trail, there are traditional villages with tea houses where you can find restroom facilities during short tea or lunch breaks.
If no toilets are available, you can find a private spot but remember to be environmentally responsible.
Shower facilities along the Manaslu Trek Route
The majority of villages along the Manaslu trail have tea houses with shower facilities, making it convenient for trekkers to freshen up. Most teahouses charge an additional fee for hot showers, even in high settlements like Samagaun and Samdo.
Likewise, Dharamsala (Larke Phedi), the last settlement before crossing the challenging Larkya La Pass (5,106m), doesn't have shower facilities.
As you cross the pass and reach Bimthang, you will find better tea houses with shower amenities.
Shower Cost Considerations at High Altitude
As you ascend to higher trekking regions, the cost of hot showers tends to increase. This is due to the logistical challenges of transporting gas for heating, which often requires mules or donkeys.
So, be prepared to pay for this service in such villages.
Shower Facilities at Different Altitudes Along the Manaslu Trekking Trail
Certain villages at higher altitudes, like Namrung, Samagaun, and Samdo, do provide shower facilities.
However, some villages, like Deng and Jagat, lack hot showers. So you may need to adjust your hygiene routines accordingly.
Early Spring or Late Autumn Considerations
Trekking in the early spring or late autumn presents unique challenges to frozen water pipes. In such conditions, you might only have access to a bucket of hot water for your shower.
While tea houses offer a single bucket of hot water, keep in mind that in November or early March, it can be too cold for comfortable showering. As an alternative, consider using wet wipes to refresh dry showers.
Thus, the best time to trek Manaslu is late March to early May and later September to early November.
Personal Hygiene Tips Without Regular Hot Showers
Moreover, given the high altitude and limited access to hot showers, it's advisable not to take baths regularly.
Instead, follow these personal hygiene tips during the Manaslu Circuit Trek:
Carry personal hygiene essentials like wet wipes, hand sanitizer, and tissue paper.
Use wet wipes for a quick clean-up when showers are unavailable or inconvenient.
Practice proper hand hygiene by washing your hands frequently with soap and water or using hand sanitizer.
Always wash your hands before eating any kind of food on the Manaslu trail.
Use a washcloth or bandana to freshen up by dampening it with water and wiping down exposed areas.
Use dry shampoo as an alternative to regular shampoo to keep hair clean and grease-free.
Change into clean clothes regularly to maintain freshness.
Stay hydrated to keep your body and skin healthy.
Use natural water sources to freshen up when available and environmentally safe.
Laundry facilities along the Manaslu Trekking Trail
While trekking along the Manaslu Circuit, laundry facilities are available until Soti Khola. You will get the opportunity to wash your clothes.
However, beyond Soti Khola, laundry facilities become scarce at higher elevations. Due to the colder temperatures, it is challenging to wash clothes effectively. Additionally, some teahouses might lack the necessary equipment, such as washing machines, to provide laundry service.
Furthermore, to ensure fresh clothes during the trek, you can wash your garments in cold water. Tea houses generally have sinks available for this purpose, where you can hand wash smaller items like socks and handkerchiefs.
But remember, in higher regions, the water can be icy, so be prepared for the cold.
Sweating during the trek can cause clothes to become unpleasantly odorous. To mitigate the issue, consider packing moisture-wicking material that helps manage sweat and keeps you feeling fresh throughout the journey.
As laundry facilities become limited at higher altitudes, it is essential to pack enough clean clothes to last the duration of the trek. Having an adequate supply of clothes will ensure you are comfortable throughout the challenging terrain of the Manaslu Circuit.
Final Words
Manaslu region lies in the remote section of the Himalayas, offering a unique trekking experience in Nepal. When it comes to showers and toilet facilities along the Manaslu Circuit route, it's essential to set realistic expectations.
In the lower sections and newly constructed hotels, you will find Western-style toilets, which provide more familiarity and comfort. However, as you ascend to higher altitudes, squat toilets become more common.
So, before embarking on this trek, it's advisable to familiarize yourself with using squat toilets.
Likewise, shower facilities are available at most teahouses on the trail. However, getting hot shower facilities for free at higher altitudes can be challenging. But for a small fee, you can enjoy a refreshing hot shower, which is worth it after long hours of trekking.
Nonetheless, it's important to appreciate the effort of local communities and businesses in providing these essential facilities for trekkers in such a remote region. Their dedication ensures a more enjoyable and convenient experience for trekkers.As you utilize these sources, it's crucial to be responsible and mindful of preserving the natural environment. Show respect for the surroundings and leave no trace. This will help to maintain the pristine beauty of the Manaslu region for future generations to enjoy. Happy Trekking!